Happy Friday to everyone... Now since there's not been much happening in the Premiere League as far as transfers, I've decided to make this my season preview. Pretty exciting, I know. But before we get down to it, I'd like to get into the mighty Arsenal's play-in opponents for the Champions League... drumroll please... Celtic of Glasgow.
Admittedly, I don't know that much about Celtic, but I can't say this is necessarily a bad draw for Arsenal. Rangers won the SPL last season (with Celtic finishing a not-unheard-of second, as there are really only two teams in Scottish football worth mentioning if you're not from Scotland), and Arsenal applied an asskicking to the SPL champs in the Emirates Cup. And while Rangers did lose one of their top players (midfielder Barry Ferguson, to Birmingham), Celtic did so as well (midfielder Shunsuke Nakamura, to Espanyol). They do have some very talented players, among them forwards Aaron McGeady and Shaun Maloney, the latter spending last season with Aston Villa, where I thought he got too little playing time... he seemed to impress each time I saw him come on. They also have the apparently metally unbalanced Artur Boruc in goal, who is as talented as he is deranged. So that could potentially benefit us, on the chance that Boruc makes a snap decision to abandon his goal and drink some lighter fluid or urinate on some fans, or maybe attack one of his own defenders.
All that being said, I don't think it's the height of conceit to say that they are a team Arsenal should beat. But at the very least I think we can expect a good atmosphere for the match at Celtic Park.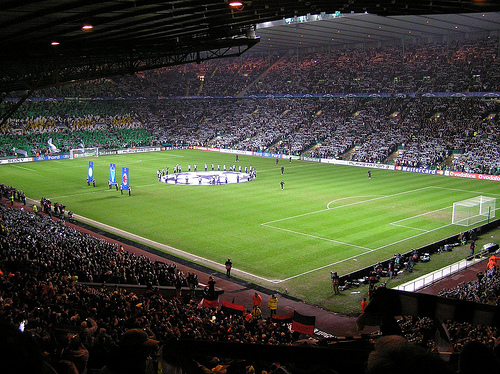 And I'm hopeful we'll see something like
this
. I'm predicting 4-1 on aggregate for the Arsenal. Yes, I'm biased, and you'll have to deal with it.
And now for the moment you've all been waiting for: the 2009-2010 BARCLAY'S PREMIERE LEAGUE PREVIEW!!!
I'll be going through each of the 20 teams with a look at their chances (in my mind... and since I'm the one writing this, the only one that matters) at winning the league, or their lack of chances. I think we'll start from the bottom and work our way up, which brings us to...

20. Burnley
I like Burnley. I really do. I love underdogs, and they certainly are that. But the only feeling I get from this team is the same I got from Derby County when they came up prior to '07-'08. And we all know how that worked out. I mean Adebarndoor scored a hat-trick on them, for fucks sake! Do you know how many shots it usually takes him to score three goals? Well, I don't have a calculator nearby, but let's just say a lot. I can see Burnley finishing with more points than Derby did, but it won't be enough.

19. Portsmouth
Yes, I'm afraid this will be the end of the road for the Arsenal retirement home by the sea. A team that won the FA Cup just two seasons ago has been effectively dismantled, selling off the team's best players (Lassana Diarra and his dolphin-shaped head, Jermaine DeFoe, and this season, the overhyped Glen Johnson and the giraffe on ice skates, Peter Crouch), leaving them with a pile of money that would serve only to pay off debts, a few Arsenal players well past their top-flight expiration date, and team so lacking in talent that they're looking to bring in Mark Viduka. Not much more to say here except perhaps, so long, farewell, auf wiedersehen, good-bye.
18. Wolves
Not a team that you want to see go down necessarily. Wolves have been around forever, they have a certain charm about them, and they wear orange, which is nice when not worn on Hull City players or their manager's face. Nevertheless, they don't look to me like sticking around more than a season. They're not untalented; Wolves have the Championship's leading scorer from last season, Sylvan-Ebanks-Blakes-Rodhams-Clintons. They also have an American goalkeeper in the newly acquired Marcus Hahnemann, and if they're one thing Americans are good for on the football pitch, it's using our hands. But frankly, I don't think this team has the necessary firepower for staying up, and Hahnemann hasn't faced top-flight competition in some time, and even then his results were mixed. I'm afraid this will be another 38-night stand for Wolves, but no more.

17. Birmingham
Let's just say that if Arsenal don't at least TRY to knock Martin Taylor around each time they play Brum, Eduardo has a right to be pissed. It was against Birmingham away in January 2008 (at that latrine they call a football pitch) where Arsenal's title hopes were, in spirit anyway, dashed. Alec McLeish has assembled a halfway decent squad, but will it be enough to make it through a Premiership campaign? Much as it pains me to say it, I think they do. Birmingham have made some improvements, bringing in Barry Ferguson from Rangers (and formerly from the Scottish national team, before he decided to get wasted and flip off fans), forward Christian Benitez from Santos of the Mexican league, and Joe Hart from the sky blue, formerly not-so-hateable team in Manchester to play goal. And they also add a bit of steel in midfield with the addition of Lee Bowyer. I do think they'll stick around at least another season, and I do think Martin Taylor has a shitload of bad karma coming his way.

16. Hull City
What more can be said about Phil Brown that hasn't already been said about a leprous bulldog's asshole? Constantly spewing shit that sticks to the hair around his hole while everything falls apart around him. Oh right, the ridiculous fake tan and headset, too. Well I don't see Hull sneaking up on anyone this season, but for all that their manager is a dick, they do have a talented squad. Geovanni had an impressive 8 league goals last season, and with the addition of on-loan striker Jozy Altidore from Villareal, they've brought in a big, powerful forward who has the pace to get behind the defense. Sort of like Adebayor, but a little shorter without the money-grabbing, bad attitude and ineptitude in front of goal. Add to that a healthy Jimmy Bullard, and they'll have good service from midfield and an expert free kick man, for at least three weeks until he ruins another appendage. Nowhere in sight of Europe of course, but not going down either.

15.Stoke City
Tony Pulis did a wonderful job keeping Stoke up last season, particularly when you look at the roster and realize their biggest offensive threat is the long throws of Rory Delap. Stoke even played some non-ugly football at points last year, and managed to stay up ahead of the likes of Newcastle (who fully deserved their fate). I'd expect more of the same, but then I assumed Arsenal would walk into Stoke and come out with three points, so what the hell do I know.
14. Bolton
Sigh. Possibly the most depressing team in the league. So bad that you assume you'll beat them, but you can't even get excited since they play anti-football and their entire starting XI will try to injure your team's players for 90 minutes, plus injury time. Kevin Davies appears to have fully taken on the mantle of the league's best sneaky-elbow-thrower, and while he's a cheating prick, he's not the worst forward in the world. Add to that a midfield including Matt Taylor and Fabrice Muamba, Cahill heading up the defense in front of Jaaskelainen in goal, and you've got a team that will finish solidly in the bottom half while disappointing the opposition's fans as well as their own.

13. Wigan Athletic
Possibly the best thing to have come out of last season for Wigan Athletic was the 16 million pounds brought in from Manchester United for Antonio Valencia, who can run really fast and, to his credit, isn't the worst player I've ever seen. Wigan haven't lost much from the team that finished 11th last season, and while I don't know if Amir Zaki is going to score 10 league goals again (his second half was as forgettable as his first was memorable), they have an effective defense and a yellow card machine in midfielder Lee Cattermole (who may actually developed into a good footballer). Add to that a full season from impressive Columbian international forward Hugo Rodallega, I think we'll be here again this time next year, once again predicting Wigan to finish in the lower half of the table. Unless of course they're bought by a free-spending Middle Eastern country, in which case we'll be predicting them to finish solidly in mid-table.

12. Blackburn Rovers
It pains me to predict this high a finish for a Fat-Sam-Allardyce-managed team, but there you go. They made a heap of money off of the sale of Roque Santa Cruz, and even managed to have a backup Santa Cruz, Julio. As with any team coached by Allardyce and playing the purest form of anti-football, expect a tight defense, despite the
shambolic
(my favorite English word) Paul Robinson in goal. They have some talent in midfield in the likes of the creative Morten Gamst Pedersen, as well as the cheating ability of El Hadj Douche. They've even retained some attacking flair with the likes of Benny McCarthy, the impressive Jason Roberts, and have brought in on-loan striker Franco DiSanto from Chelsea. So to recap, Blackburn are boring, and may Sam Allardyce succumb to heart disease at long last.
11. Sunderland
Sunderland have had an interesting offseason, to say the least. After Roy Keane took his ball and went home midway through last season, leaving a team with decent talent languishing around the relegation zone, the players seemed to rally around caretaker boss Ricky Sbragia, pulled up their bootstraps and went to work, finishing in the clear in 15th. Since then, they have quietly been major players in the transfer market, bringing in a new manager in Steve Bruce (formerly of Wigan), and signing several interesting players, such as Frazier Campbell, formerly one of Manchester Utd's top young guns, Lorik Cana of Marseille (a tackling machine and former captain of OM) and defender Paolo Da Silva from Toluca of the Mexican league. And of course, they've brought in Darren Bent, perhaps the one poorer finisher than Emmanuel Adebayor in the Premiership; however, he does often find himself in position to score, and even if you only score 3% of your shots on goal, there will be some sort of goal tally (12 league goals). Plus, Bent
became the biggest twat to tweet on twitter
, finding a way to make Sp*rs owner Daniel Levy almost look sympathetic for trying to recoup the gigantic waste of money spent on Bent in the first place. In any case, the one thing Steve Bruce is good at is extracting the maximum from his players, so if Bent can get 12 goals for Spuds, imagine what he can do with a midfield NOT populated by rat-faced chavs and boyfriends of
Ashley Cole
's.
Which brings us to the Top 10, and for the occasion I've had a gap placed between my teeth to honor of David Letterman. This may be a bit shorter, since I hate most of these teams, although that may in fact make it longer (that's what she said).

10. Tottenham HotspFUCKSHITPISS
(pardon my turrets)
It's strange; usually at this point in the close-season, I'm used to seeing the spuds having spent 50 million on absolute trash, and pundits explaining why this year will be the year Tottenham crashes the Big Four. I haven't even had a friend less-savvy in English football make that claim, enabling me to shake my head and explain why not. 'Arry Redknapp, his twitch, his dead mother haven't done much to improve this team, aside from selling Darren Bent, bringing in the aforementioned giraffe on ice skates (Crouch) and a defender from a relegated team that finished with a goal difference of -20, former Newcastle man Sebastien Bassong. The Scum from Seven Sisters Road still have Ashley's boyfriend, the rat-faced chav, and Luca Modric, who I'd actually rate if he weren't affiliated with this accumulation of shitheels and walking abortions. Their leading striker lives in a van down by the river selling hubcaps and their wingers couldn't deliver a pizza, let alone a cross. On top of that, their defense is a damned mess even when healthy (a rare enough feat), and their keeper keeps his goal sealed about as tight as Sara Palin's daughters keep their legs. So you may ask why I even have them in the top half? Because for as crap as their team is, and they are crap, they always seem to find a way to safety, usually mid-table, even after spending most of last season in a relegation battle. Besides, if I have any good karma stored up, I'm using it to help Arsenal, not just to relegate Tottenham. Besides, if they went down, who would we mock?
9. Fulham
Probably the one London team aside from Arsenal upon whom I don't wish biblical plagues. Woy Hodgson probably should have been manager of the year last season after getting this team into European football for the first time in ages, a year after their great escape from relegation. There's been little doing on the transfer front, but this team have held together a solid nucleus at the back from last year's squad that were 4th-best in goals allowed (not to be confused with Girls Aloud, the pop group for whom Ashley Cole's husband sings). The midfield is led by Simon Davies and America's (FUCK YEAH!) Clint Dempsey, Andy Johnson leads the attack, and Bobby Zamora misses chances. I can't say I see them going far in Europe, or qualifying again next season, but a mid-table finish beats a relegation scrap, in my book.

8. West Ham United
My favorite team to sing and shout against at Nevada Smiths. Loyal and vocal support, and this year they may have something more to sing about: a decent team challenging for a spot in Europe. Gianfranco Zola seems to really have something good going on in East London, and has added a good deal to an already strong team, bringing in Luis Jimenez on loan from Inter to add to his attacking options, and the Hammers have been strongly linked with Eidur Gudjohnsen as well, to go with returning attackers Dean Ashton and Carlton Cole, one of the breakout players of last season. Scott Parker patrols the midfield when not injuring Theo Walcott in England training sessions, and former Gunner Matt Upson leads the back four in front of England's best 'keeper, Robert Green.

7. Manchester City
City have all the money! They're buying everyone! They're crashing the top four! There's a sale at JC Penney's! There's been plenty of talk, and plenty of money, around the Prem's new billionaire's club. Does this make the team from the Middle Eastlands a favorite for the title this season or at least a top-4 finish? Slow. Down. Let's look at what Man Shitty have done. They've brought in Gareth Barry, who until the season before last was considered a fringe player for England. They bought Arsenal's third choice at both striker and center back (Adebarndoor and Toure). They brought in Rouque Santa Claus, who's career scoring record is: 3, 7, 6, 4, 3, 19, 6. You spot the aberration. They brought in Carlos "Neanderthal Man" Tevez and his whopping 5 league goals, from Manchester United, so he could get more playing time on a team that have bought 6 forwards over the last 2 seasons, including Benjani (who may or may not still be alive), Shaun Wright-Phillips (so nice they named him twice), Robinho (sexual assault pending), and Craig Bell-end. They bought Nigel DeJong for 18 million pounds in January, when they could have waited til June and gotten him for free. They believed that Wayne Bridge would improve their defense. And Mark Hughes is still the manager. This team will be better than last year's Man City team, it's hard to argue against that, but they will take several months to get used to playing together, and I don't remember a team winning anything when fielding 7 or more strikers at once. They do have Shay Given (for my money, which isn't much compared to City's, the best 'keeper in England), but their defense is still wonky at best, and Mark Hughes is still the manager. Yes, I know I said that, just thought that bore repeating.

6. Aston Villa
They're exciting to watch, they have a good team, and they fall apart down the stretch. No, they're not the Boston Red Sox, they're Aston Villa. Martin O'Neill has retained much of the side that worried many Arsenal fans before turning back into a pumpkin, losing, of note, only Gareth Barry, but deciding to bring in winger Stewart Downing from Middlesbrough, despite knowing he'd be out injured for the first two months. Still, the attacking force that made them so difficult to defeat for so long las season remains, with Agbonlahor, Carew and Heskey, along with midfield threats Stilyan Petrov, James Milner and Ashley Young,
who likes to beat off on webcam in his spare time
. Are they ready to make the leap from Europa Cup to Champions League? Probably not yet. But they'll threaten to disrupt the balance of power more than the Manc Arabs will.

5. Everton
Hard not to like Everton (unless you support the other hubcap thieves on Merseyside). They play good football, they don't try to buy trophies, and they're not in the top four yet, so not terribly threatening. As an added bonus, their manager is nearly as impossible to understand as Gordon Strachan was for Coventry, so even if he insults your team, you won't know it. Okay, they may be losing Jolean Lescott and his positively frightening hairline to Citeh, and Phil Jagielka is out injured. And they may be buying Philippe Senderos, so they may ship a few more goals. But they have one of the more solid midfields in England (Pienaar, Arteta, Cahill and Fellaini), a solid back four even without Lescott, and 'keeper Tim Howard, as good on his day as anyone. They've brought in Jo from City themselves, to add to Yakubu and Louis Saha, so barring injuries (which is a novel term when Saha's involved), they should have enough offense to trouble the top four, if not quite break in.
4. Manchester United
This is the first time in years I've been able to look at the preseason teams and honestly think United weren't the best team in England. But it's true. The loss of Ronaldo alone makes them a much inferior club offensively, and trying to replace him with Antonio Valencia seems folly; the player doesn't become better the more you pay for him. Yes, they still have Rooney, they still have Berbatov, and they still have Giggs and Scholes and their old, wrinkly balls, but does that plus Michael Owen (on whom Sam Jackson's character in Unbreakable was based) really amount to a team that will challeng for the league or any cups? Add to that the injuries to Edwin Van Der Sex and Nemanja Vidic, and assuming injury to Rio Ferdinand, this team may spend the first few months digging themselves out of holes rather than extending a lead, and as we saw with Arsenal last year, playing catch-up is a poor way to try and finish ahead.
3. Liverpool
The Scousers put together an impressive run last season, only finishing out of the money because of a damn-near unstoppable United team. They are impressive from back to front, and have the best forward in the league in Fernando Torres to go with the best midfielder in England in Stephen Gerrard. They've added to their defense with Glen Johnson from Pompey, and look like they'll be capturing Alberto Aquilani from Roma. So why third? Part hunch, partly because they've lost their player of the year (Alonso) to Madrid, partly because they're replacing him with someone with no experience in England, and partly because I've seen Glen Johnson play and have yet to be impressed (Arsenal's B-squad made him look silly last season, and Johnson was at home). And partly because, when pressed, Rafa Benitez looks like his heart is going to explode, meaning he's not great under pressure and should cut back on the tapas.
2. Chelsea
Now now, let's not go scrolling ahead, there's only one team left now and we all know who that is. Let's look at Chelsea. First things first, they haven't lost anything from last season, unless you count getting Schevchenko back as a loss, and I do. Second, they've added Zhirkov, the Russian left winger/fullback, with whom I have been very impressed so far. Third, they'll have Drogba back healthy, barring any matches he'll be banned from for acting like a petulant child. But this is a team that isn't getting any younger, which will hurt them. And they should have sold John Terry for the 50 million pounds on offer from Citeh, as his legs are going on him, and Abramovich took a major hit in the wallet in the latest economic downturn. They've replaced one of the world's best managers (Hiddink) with an Italian retread (Ancelotti), and as far as anyone can tell, the players still run the dressing room. They'll be right up there at the end, but will they win? Hard to say, but fuck it, I say no. Which means...

1. Arsenal
So why, when every pundit is picking Arsenal to drop out of the top four, when Manchester City is buying up everything that's not nailed down, when United are still in the hunt, why Brett are you picking Arsenal to win it all?
a) Ferguson is talking shit again. Which means he's worried. He was perfectly cordial with us last season, because we weren't a threat to him. Now he's hitting out at us every chance he gets. He knows which way the wind is blowing, and it's coming out of N5.
b) They're like new signings. Arsenal were missing Cesc Fabregas, the heart, soul and mind of the team, for months last season and still finished fourth. He's back, healthy, and he's got ink. And he's the unquestioned captain of the team. Add to that the return of Eduardo, perhaps the coolest pure finisher in the sport, Theo Walcott, and, whether you count on him or not, Tom Rosicky. This is a team that reached the Champions League semifinals without some of their best players, including their very best, who was cup-tied. Which brings us to...
c) Andrei Arshavin. A full season with this guy in the lineup? Are you kidding? The Russian Maestro was everything we could have hoped for when we signed him (finally) from Zenit St. Petersburg, scoring 6 goals in 12 league matches, including 4 against Liverpool, who allowed only 27 goals all season. But more than that, he breathes new life into the Arsenal attack, which is Arsenal's best form of defense. One of the best players in the world, right now. And for me, he's the best.
So there we are. We've had some laughs, some disagreements, and in the end none of it's going to matter but what actually happens on the pitch beginning on the 15th of August. Is this all going to be correct? Most certainly not. If I knew exactly where every team would finish in May, I'd be placing bets right now. But that would mean I wouldn't enjoy the football as much... and where's the fun in that?
Arsenal have their last preseason match against the flat broke but still somehow star-studded Valencia on Saturday. I don't think
Nevada Smiths
will be showing it (bad news for us
NYC Arsenal Supporters
), but I'm sure we can all find a link to watch it online, it should be a good match, and we'll likely see Theo for the first time this season. I'm sure you're all as excited for the season proper as I am, but let's try to enjoy this one last week, think up some new songs for the boys, and as always... You stay classy, Gooners...