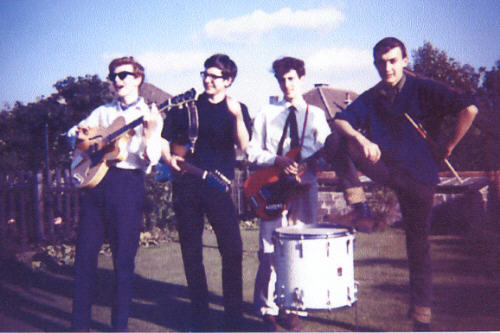 The Clique
were formed in October 1963 by Adrian Stambach (Bass) (quitting the Cravats, a band featuring Jesse Hector) John Rowe (Lead Guitar), Trevor Roberts (Drums) and Peter Westgarth (Vocals/Harmonica), having their first rehearsals at the "Fender Club" in Kenton near Harrow, Middlesex. They were joined by John Kitchin (Rhythm Guitar) shortly afterwards.
They played the usual run of poorly paid gigs (weddings, socials and small dances)until they signed with Bob Druce Management in mid 1964 and played better poorly paid gigs. One of their earliest gigs was with their stable mates "The High Numbers" (The Who) at the Aquarium Brighton on an "All Nite Rave" in early August. They also played support for The Kinks later the same month, who were to become "stable mates" of another kind when The Clique signed a recording contract with Larry Page. They continued to play support for a while to rising bands like The Yardbirds, Zoot Money's Big Roll Band, The Poets, Pretty Things until they "graduated" to being the main act towards the end of 1964. One of their "support acts" was The Small Faces at the London Cavern on April 3rd 1965, shortly after Steve Marriott had formed the group. They became quite friendly with The Who and played on the same bill several times (there is even a mention on one of the inserts supplied with The Who's "Live At Leeds" album) and on one occasion, Pete Townsend and Keith Moon came along to watch a performance at the "Railway Hotel" in Harrow Weald culminating with Keith replacing Trevor for a couple of numbers!
Another band they shared billing with a few times was The Birds and one should ask Ronnie Wood how impressed he was with their act. They made their first demo at the CBC recording studios in Liss, Hampshire sometime in October featuring the songs "She Ain't No Good". "Oo Poo Pa Doo", "Pretty Thing" and "One Kinda Favour". The disc was not recorded to their expectations and another was recorded at the Marquee Sound Studios a month later. This disc has not surfaced to date but "She Ain't No Good" was on it together with "Leaving Here". That disc was presented to Larry Page, who after seeing the band play at a gig, signed them up. The first record "She Ain't No Good" was recorded and a "B" side was required, something original. There wasn't one until Adrian said that he had written a song called "Time, Time, Time". Having shown the song to the other lads, they were somewhat disappointed and set about reconstructing it during Adrian's absence!
The record was expected to sell well (aren't they all?) but didn't. The follow up record "We Didn't Kiss, Didn't Love, But Now We Do Do" b/w "You've Been Unfair" sold even less but was appreciated by other musicians at the time. A third single was due to be released later in 1965 but an advance pressing is all that exists of that now. This was "Leaving Here" b/w "I Left My Heart In A Faraway City". There is a small footnote in that the intro to "We Didn't Kiss...." was superimposed on the Troggs "Wild Thing" also recorded by Larry Page. Between the release of the two singles, their original drummer, Trevor Roberts left the group and was replaced with 15 year old Brian Morris at Keith Moon's recommendation! Several other titbits of info exist for instance: It has been noted that Bob Dylan caught their act in Newcastle during his 1965 tour in May. The rest of their recordings were not issued until the band was rediscovered in the eighties. Dig the fuzz Records, an independent and very specialized UK label edited an LP with their complete discography (10 tracks) in 1995.
Source:
Wickipedia
MP3:
The Clique-We Didn't Kiss, Didn't Love, But Now We Do